INGEDE News Winter 2020/2021 – Happy New Year!
INGEDE Symposium 2021
will be online on March 2nd
The INGEDE Symposium is the most important event in the field of paper recycling and deinking in Europe!
Besides the different eco-labels and their requirements in terms of recyclability and methods, INGEDE will look into tomorrow's bin with paper for recycling: What about the availability of paper for recycling, how does the composition change (and how does the fraction of packaging increase even faster due to the pandemic)? What's new in sorting? What are the current trends in printing, in printed products, in printing inks; and how does that effect recyclability and deinkability? What about mineral oil free inks, especially for newspapers? These and more issues are coming up, so save the date for the INGEDE Symposium!
---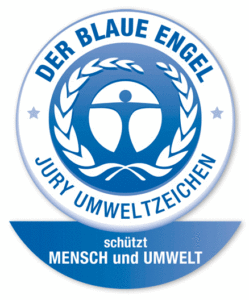 Ecolabels: The Blue Angel has been updated … and the revision of the EU Ecolabel for Printed Products will also be an issue at the upcoming symposium.
---
For the symposium, we plan a couple of speakers introducing the updated EU Ecolabel, the Blue Angel for printed products, and to discuss the potential risk of commercial labels like Cradle to Cradle that are used as an alibi for non-deinkable printing ink (and defame paper recycling to leave 40 % "more or less poisonous sludge" e. g. here).
4evergreen: A New Alliance for Fibre Based Packaging
Under 4evergreen you can find a lot on the worldwide web: A Dutch specialist for peppers ("produces peppers in a customer-oriented and innovative way"). A lawn specialist between Memphis and Nashville ("We want the outside of your home to look as beautiful as the inside"). A website with weird birds and the biggest of all donkeys ("Animals You Won't Believe Exist"). And now, a campaign by the European paper industry to "bring together companies within the fiber-based packaging value chain" that are "committed to greater circularity and sustainability." To be found at www.forevergreenforum.eu.
In November, the wood fibre-based packaging alliance 4evergreen held its launch event entitled "Perfecting circularity with fibre-based packaging". The online event included a panel debate with industry leaders from Stora Enso (Finland), Huhtamaki (Finland), Mars (US), Nestlé (Switzerland) and Smurfit Kappa (Ireland).
It highlighted the alliance's vision to further advance circularity of fibre-based packaging and introduced the sector's existing circular and sustainable best practices. By following a holistic approach and adapting innovative solutions, 4evergreen aims to increase the recycling rates of fibre-based packaging to 90 % by 2030.
Susanne Haase, Programme Director of 4evergreen, introduced the alliance's vision and mission and highlighted the solid achievements of the industry: "Fibre-based packaging is the most collected and recycled packaging material in Europe. Already today, we exceed the targets set for us by European legislation – But being good should not stop us from getting better."
Virginijus Sinkevičius, EU Commissioner for Environment, Oceans and Fisheries, welcomed the initiative of the fibre-based packaging industry via a dedicated video address: "The mission of 4evergreen is clearly in line with the thinking of the European Commission and our objectives for a circular low-carbon future. The Circular Economy can put Europe back on its feet, and packaging is an important part of the new Circular Economy Action plan, it commits to ensuring that less packaging waste is generated overall and that all packaging is reusable or recyclable in an economically viable way in 2030."
Alternative packaging formats made of circular and renewable materials
 "We will support the fibre-based industry value chain contribution to a climate neutral society by offering alternative packaging formats made of circular and renewable materials," stated Annica Bresky, CEO of Stora Enso. Tony Smurfit, CEO of Smurfit Kappa, concluded: "I am convinced that our creativity for adopting innovative solutions and our commitment to the shared vision of perfecting circularity for all fibre-based packaging will make the alliance a great success."
As highlighted by key brands panellists from Mars and Nestlé, the alliance aims to further optimise and promote its circularity, climate and environmental impact by focusing on improving the current circular performance of packaging used for household and on-the-go products. 4evergreen will focus on the following activities:
Develop design for circularity guidelines for fibre-based packaging;
Establish industry-wide recyclability evaluation protocol for fibre-based packaging;
Publish guidelines for improved collection and sorting of fibre-based packaging in Europe;
Drive innovations in areas increasing circularity of fibre-based packaging.
4evergreen is a cross-industry alliance aiming at boosting the contribution of fibre-based packaging to the circular economy across the value chain. The alliance's vision is to perfect the circularity of fibre-based packaging to contribute to a climate neutral and sustainable society. The alliance already counts 55 active members across the fibre-based packaging value chain, including leading brand owners: Nestlé, Mars, P&G, Danone, IKEA, Kellogg's, Ferrero, and more. For more information, visit the alliance's website, Twitter account, and LinkedIn profile.
Axel Fischer, 4evergreen
New flyer of TKPV:
"Hotmelt applications in the paper recycling process"
The Technical Commission on Paper/Packaging Adhesives (TKPV) has published a new fact sheet to objectify the discussion on the interference potential of hotmelt adhesive applications in paper recycling.
According to the German Adhesives Industry Association, the leaflet is intended to supplement or present the results of the recently published UBA study "Suitability of adhesives for printed products with the Blue Angel eco-label (DE-UZ 195)" (see INGEDE News Summer 2020) by pointing out that the chemical composition of a hotmelt adhesive has no influence on the fragmentation or sorting behaviour of hotmelt adhesive applications; it is only physical parameters (softening point, layer thickness and the geometry of the adhesive application) that need to be taken into account.
The information sheet is available in German and English for free download on the website of the German Adhesives Industry Association:
New EU Ecolabel criteria for printed paper, stationery paper, and paper carrier bag products
Printed products have to be deinkable,
adhesives have to be removable –
according to INGEDE Methods 11 and 12
The EU Ecolabel is awarded to sustainably designed products, encouraging innovation, and contributing to the EU goal of climate neutrality by 2050 and to the circular economy. Through the EU Ecolabel, industry can offer consumer an eco-friendly alternative to conventional paper products, and helpthem lower their daily environmental impact.
This product group covers:
any printed paper product consisting of at least 90 % by weight of paper, paperboard or paper-based substrates (80 % for books, catalogues, booklets or forms)
envelopes that consist of at least 90% by weight of paper, paperboard or paper-based substrates
paper carrier bags (including wrapping paper) consisting of 100 % by weight of paper, paperboard or paper-based substrates
stationery paper products (including filing products) consisting of at least 70 % by weight of paper, paperboard or paper based substrates (except for suspension files and folders with metal fastener to which the threshold does not apply).
Stringent criteria, focusing on the main environmental impacts throughout the lifecycle of the products, ensure that EU Ecolabel printed paper, stationery paper and paper carrier bag products are among the best on the market in terms of environmental performance. Specifically, EU Ecolabel criteria:
ensure that the manufacturing of paper-based products is carried out in a more sustainable way and fibres are sourced from sustainably managed forests or recycled materials
restrict the use of hazardous substances
increase products circularity by increasing their recyclability
address emissions generated during the printing process
reduce the quantity of paper waste generated in a process
promote energy efficient manufacturing processes.
Products that want to be honoured with the ecolabel have to be deinkable according to an INGEDE Method 11 test, evaluated by the EPRC Scorecard, and achieve a minimum of 51/100 points. Adhesive appivations have to be removable according to INGEDE Method 12 (water-based adhesives are exempted).
The full criteria can be found on the EU Ecolabel website (pdf).
Altpapier – richtig trennen statt Rohstoffverschwendung
(Paper for Recycling – collect correctly rather than wasting resources)
am 21.11.2020 ∙ Doku & Reportage ∙ hr-fernsehen
How sustainable is paper for recycling and recycled paper? A documentary on German tv shows the process from collection to the newly made paper, in German, shot partly at Steinbeis in Glückstadt.
Available here (ARD Mediathek) until November 16, 2021
(if you cannot access it from your country, as us and we might be able to provide you with a downloaded video file)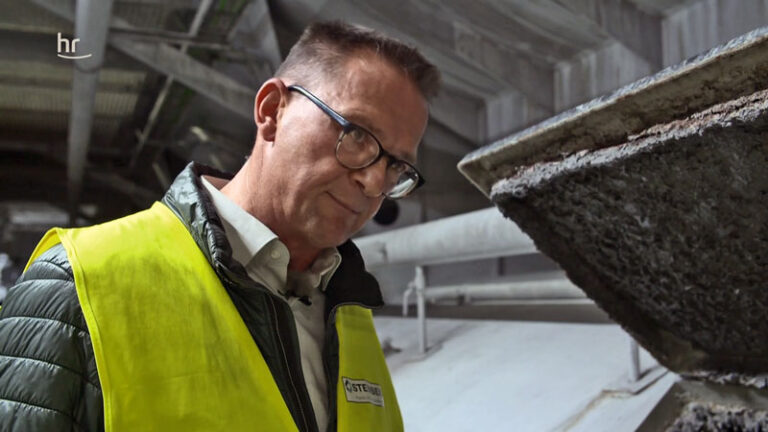 Crown Van Gelder introduces
paper from sugar beets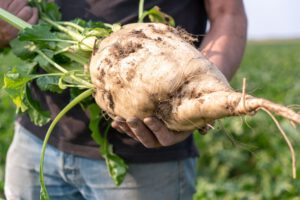 Crown van Gelder will start selling paper made with sugar beet in January 2021. This makes the Dutch paper manufacturer the first in the world to produce 'sugar beet paper' at an industrial level. The new product line called 'Crown Native' uses less wood fibres to achieve a reduced impact on the environment of 16 % compared to traditional paper.
Crown Native was developed with the Dutch agricultural cooperative Cosun Beet Company as a strategic partner. The agricultural process residue from Cosun's production process, beet pulp, forms a valuable resource for the paper. 'Beet pulp is often processed into animal feed or converted into biogas', says Miklas Dronkers, General Manager of Crown Van Gelder. 'But by using it in our paper, it becomes a high-value resource.'
Crown Van Gelder's new paper is the result of two years of research. The company investigated several crops to replace part of the wood fibres in the paper. With Crown Native, Crown Van Gelder has succeeded in creating paper made out of 20 % beet pulp, thus achieving environmental gains in several areas. Due to the local sourcing, far less transport is required. As a result, Crown Native realises a significant reduction in CO2 emissions and particulate matter formation. Moreover, by using beet pulp, the production process requires less water. 'And because we're using a residual source, no additional agricultural land is needed,' Dronkers adds.
A big advantage of using sugar beet pulp is that it is FDA compliant. 'The pulp is classified as a former food product,' Dronkers explains. As a result, Crown Native is approved and suitable for food packaging, unlike recycled paper for example. Dronkers: 'This makes our sugar beet paper the ideal choice for product packaging, but also for shopping bags and promotional print. Crown Native is the perfect fit for brands with a sustainability ambition.'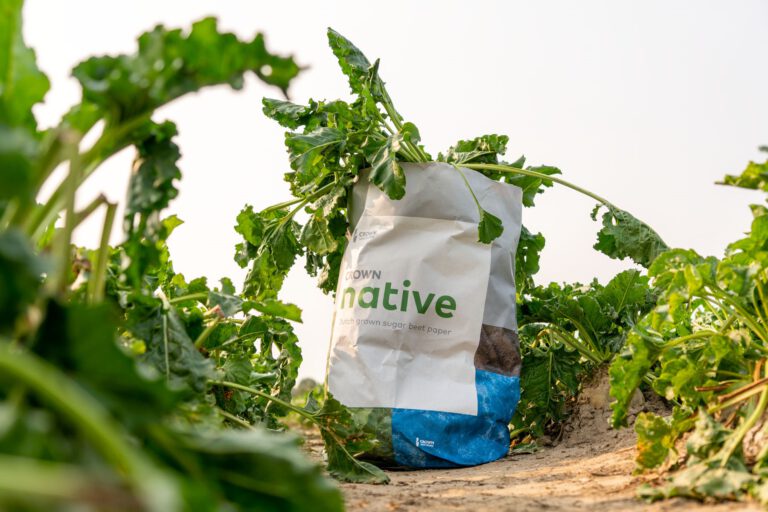 Unlike grass paper, the paper made from sugar beet is recyclable
As CVG informs us on request, "Crown Native" uses one fifth sugar beet fibres, which in turn consist of cellulose, hemicellulose, and pectin, and tend to increase the strength of the paper product – unlike grass, which does not contain fibres but silicate and thus deteriorates the strength. And unlike grass, which leaves brown stains, the beet fibres do not interfere with recycling either; they can be recovered without any problems, according to CVG.
Axel Fischer/Images: CVG
IKEA discontinues printed catalogue
WWW energy replaces 50,000 tonnes of paper
Computer and iPad instead of paper: IKEA discontinues the printed catalogue. Despite all the sustainability campaigns of the paper chain, a printed product that was previously responsible for intensive customer loyalty is once again disappearing from the market. In doing so, IKEA is supporting the needs of a younger generation of customers who thoughtlessly accept the energy consumption of the internet and the poor recyclability of electronic devices, and who are increasingly growing up distanced from the value of printed paper.
Over the past 70 years, the IKEA catalogue has become an important success factor for the company. It reaches people all over the world and has always inspired with affordable furnishing solutions as well as tips and ideas for a better home. In the year with the highest circulation, 200 million copies of the catalogue were distributed in 69 different versions and 32 languages in over 50 countries.
Online instead of flipping through the pages: customer approach has changed
Customer behaviour and media consumption have changed, according to Ikea,
and the catalogue was used less and less. Last year alone, online trade grew by 45 per cent worldwide, and the website www.ikea.com recorded more than four billion visitors. For this reason, the global franchisor Inter Ikea Systems B.V. has taken the decision to discontinue the catalogue.
IKEA had already reduced the number of copies in recent years and tried to establish new forms of distribution. From 2019 to 2020, the total worldwide circulation of 185 million copies was reduced by one third. Even then, they spoke of an evaluation phase; they would decide in three years' time which direction to take. The Corona crisis seems to have accelerated the decision. Based on the 2020 figures, the paper industry will lose a production volume of more than 50,000 tonnes, and it is also a major turning point for international web gravure and offset printing.
How high the additional energy consumption will be due to the online activities of IKEA and its customers has not yet been quantified.
Axel Fischer/first reported by Graphische Revue (Austria)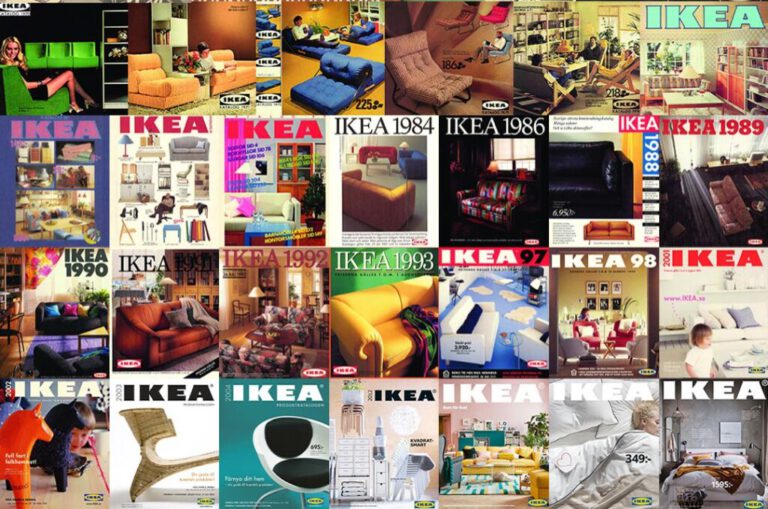 A visit to the lab:
Guests from Zeller+Gmelin at Propakma
The journey from Eislingen to Bietigheim-Bissingen is not that far: in November, two employees from Zeller+Gmelin visited us for about three hours to find out about laboratory deinking and what deinkers require from ink manufacturers.
Jens Winter demonstrated INGEDE Method 11 with a Zeller+Gmelin print product in the lab.
During the one-hour break between pulping and flotation, the four of us (with Mr Faul) exchanged thoughts about INGEDE and deinking.
(Jens Winter, Propakma/INGEDE)