---
More ash, lower strength – can sorting and collection of paper be improved?
The quality of paper is not only important for deinking grades, also the manufacturers of corrugated papers and board face the challenge to meet the rising demand at an acceptable quality, mainly for the increasing need for all kinds of packaging. The presentation of Andreas Faul (INGEDE's Managing Director) dealt with a possible source for high quality paper for recycling – the fraction today known as mixed paper. How can, already by a more selective collection and sorting at the consumer, the yield be increased for the different grades, suitable for the different products? Here it is of some help to know the material flow: Where do the different fractions of paper for recycling end up that are so valuable for the different grades to be produced?
Faul identified several trends to be considered when looking into the future of paper recycling, also for the production of board: There is a shift towards less graphic and more packaging papers from households. As the fraction of newspaper goes down, especially within the graphic paper, the ash levels increase. There is also an increasing amount of white top liners based on paper for recycling. All this leads to decreasing strength properties in mixed and packaging grades, with OCC ("Old Corrugated Containers") being "not as strong as it used to be", Faul stated.
As a consequence, Faul sees sorting of paper for recycling to become less attractive, as there is a lower content of the fraction with the highest added value. In order to keep the desired qualities available, sorting efficiency might be improved, or already the collection: by partly substituting the separate paper and board collection by a selective collection of higher grades.
Why recycle hand towels?
Moving from a linear to a circular economy is the key to create a sustainable future. Recycling paper is common, but until now, paper hand towels have been an exception. That's why Essity and its brand Tork, have developed a unique service collecting used hand towels and recycling them locally into new tissue products. Sara Lundström presented how Essity intends to close the loop for what the tissue manufacturer puts on the market. Lundström wants to "lead the way toward more circularity in professional hygiene, while helping our customers deliver on key environmental targets such as waste reduction and carbon footprint reduction".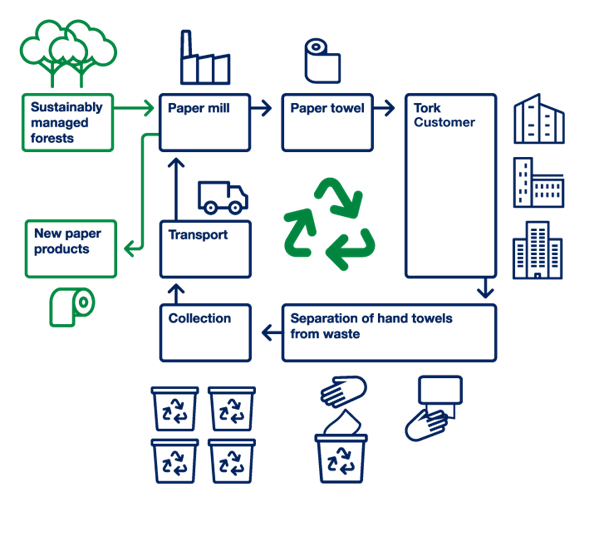 A major challenge has been to create a service that is hassle free and easy to participate in, as well as cost efficient, while still meeting the mill requirement of max 2% contaminations among the collected hand towels. This has been achieved by developing the service in close cooperation with customers, cleaning companies, recycling partners and Essity's mills. A particular challenge is to educate washroom users to keep used hand towels separate from any other waste by additional bins and instructive signage. The concept has been honoured with the European Paper Recycling Award in 2017.
Alle Vorträge des INGEDE-Symposiums können hier heruntergeladen werden!
Axel Fischer