Deinkable Flexo Ink for Envelopes
(to be translated)
Für Briefumschläge werden hauptsächlich Standard-Flexodruckfarben auf Wasserbasis eingesetzt, diese sind schlecht deinkbar, was schon Tests im Jahr 2007 gezeigt haben. Da es Anfragen aus dem Markt schon zu diesem Zeitpunkt gab, hat ein Unternehmen erfolgreich versucht, die Deinkbarkeit von Briefumschlagfarben zu verbessern.
Das PMV der TU Darmstadt (Dr. Putz) hat seit vielen Jahren Kontakt zur Firma Doneck Euroflex in Luxemburg, die Druckfarben für diese Zwecke herstellt. Die Firma hat deinkbare Farben entwickelt und seit Jahren im Sortiment. Am PMV gab es etliche Untersuchungen an Briefumschlägen mit einseitigem, vollflächigem grauen/schwarzen Innendruck, diese ergaben eine gute Deinkbarkeit. Dr. Putz hat die Versuchsergebnisse zusammengefasst:
Die Zusammenarbeit geht bis ins Jahr 2007 zurück, als das PMV erste Untersuchungen zur Deinkbarkeit von Flexofarben für den Briefumschlag-Innendruck für Doneck durchführte.
Nach Entwicklungsarbeit von Doneck hat das PMV erstmals 2008 die Farbserie WEA "EURO-BASE" mit dem Spezialverschnitten WXE "ECO-MAIL" bzw. "BIO-MAIL" als gut deinkbar zertifiziert.
In 2009 wurde die Farbserie EB-1, in 2012 die Farbserien WXE 6000 und WXE 6001 als gut deinkbar eingestuft.
In 2016 wurde den Farbserien WXE 9700, WXE 9711, WXE 9712 und WXE 9713 eine gute Deinkbarkeit mit mind. 90 Punkten und max. 100 Punkten nach EPRC attestiert."
Die Farben werden, so Rüdiger Neuschäfer von Doneck, aufgrund der höheren Kosten jedoch nur bei Produktionen eingesetzt wo der Kunde ausdrücklich Deinkbarkeit fordert oder wo es vom RAL entsprechende Vorgaben für den "Blauen Engel" gibt.
Der Anteil der deinkbaren Farben im Briefumschlagmarkt ist sehr gering. Diese werden derzeit nur in Deutschland eingesetzt, außerhalb Deutschlands gibt es, so Neuschäfer, "bisher kein Interesse".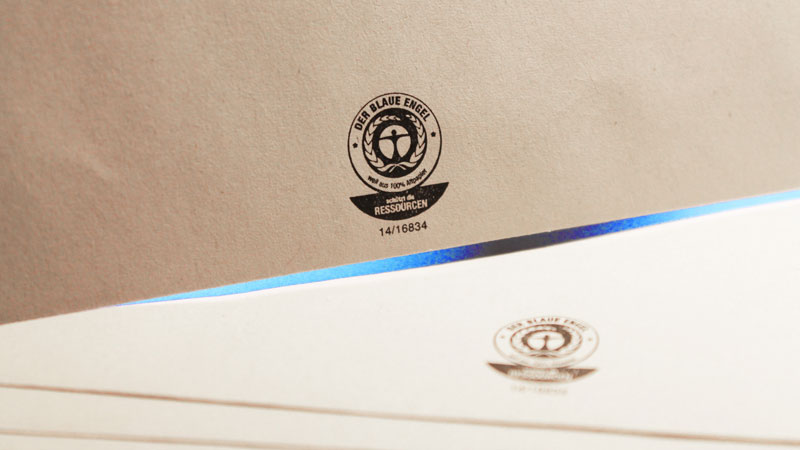 Blue Angel for recycled paper
Factsheet recycled paper now also in English 
In Germany almost everybody knows it: The Blue Angel ecolabel, an ecolabel by the federal government, that marks the most environmental products in thei respective category. For paper, it guarantees the utilisation of 100 percent paper for recycling and poses strict requirements to the manufacturing process. To communicate the advantages of paper with the Blue Angel also outside of Germany, the Initiative Recycled Paper (IPR) has published the Factsheet "Blue Angel-certified recycled paper" that gives an overview with the most important information also in English. Sure, the Factsheet is also available in German.