INGEDE News Winter 2021 – Deinkers looking for raw material
INGEDE Symposium
on Wednesday, March 9, 2022
The recycling paper industry needs raw material – less newspapers, less advertisement due to the Corona pandemic and due to increased electronic communication lead to decreasing amounts of paper for recycling.
Also, too much of the paper for recycling bypasses the sorting plant and thus the deinking mills, going directly into packaging – here due to the "Amazonitis" the demand is ever rising.
Extensive packaging is not sustainable, even if it is fibre-based. And especially white fibers should stay where they generate the highest value. Even if sorting means effort, sorting is necessary to keep white fibres available for new white, graphic paper; for hygiene papers and white top liners – and to keep it from downcycling.
Availability and quality are the key issues for the INGEDE Symposium 2022. Expert speakers will show options for a future sustainable raw material management: By certifying sorting plants to avoid costly refusals and negotiations, by certifying paper and print products for an optimum recyclability, and by developing sorting technologies to save more white fibres for the white cycle.
The INGEDE Symposium is currently planned as a hybrid event, with participation in Munich on location hopefully possible according to rules and regulations, as well as online.
More details also about the programme will come soon.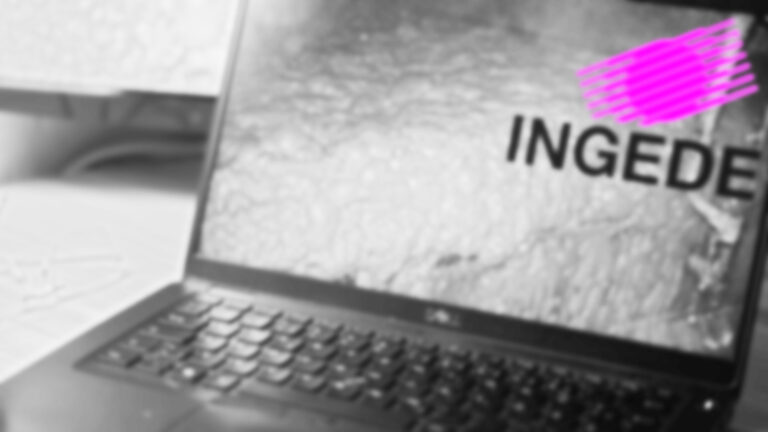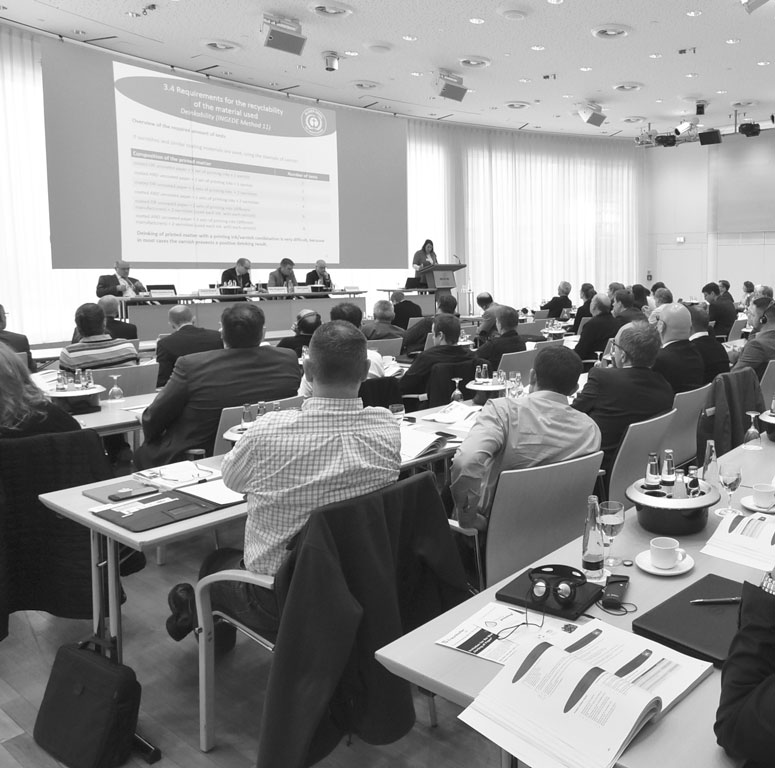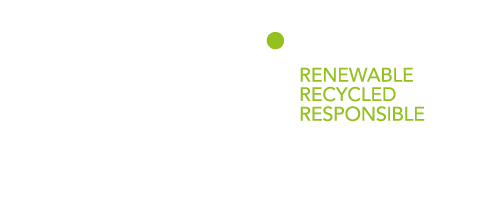 European Paper Industry:
Sustainability performance on track
While providing essential products to European citizens in 2020, the European paper industry delivered on its competitiveness and sustainability agenda.
In spite of the pandemic impacting availability and quality of paper for recycling throughout 2020, the European recycling rate increased by 1.4 percentage points and reached 73.9 % in 2020. Looking back at the progress made since 1998 – the base year for the first voluntary commitment set in the European Declaration on Paper Recycling [1]– recycling has increased by 40 % or 16.0 million tonnes.
CO2 direct emissions from the European paper industry also declined by 7.1 % in 2020, mainly due to the reduced activity but also the continuing efforts of the industry to decarbonise. As a result, the specific CO2 emissions (per tonne of product) further decreased in 2020 by 3.1 %. In terms of energy use, 62.2 % of the fuel consumption was based on renewable energy: woody biomass sourced from sustainably managed European forests.
"I am proud to announce today that our investments in reducing emissions and using more renewable energy are paying off, with a 7.1 % reduction of our CO2 direct emissions last year. We continue to lead among industries switching to renewable energy, renewables represented 62.2% of our primary energy in 2020. Our climate commitment is even more important this year, just days ahead of the European Commission's "Fit for 2030" package. It will radically revamp the regulatory framework to achieve higher emission reductions by 2030", commented Jori Ringman, Cepi Director General.
(CEPI Press release "Key Statistics 2020")
---
[1] The European Paper Recycling Council (EPRC) was set up as an industry self-initiative in November 2000 to monitor progress towards meeting higher paper recycling targets.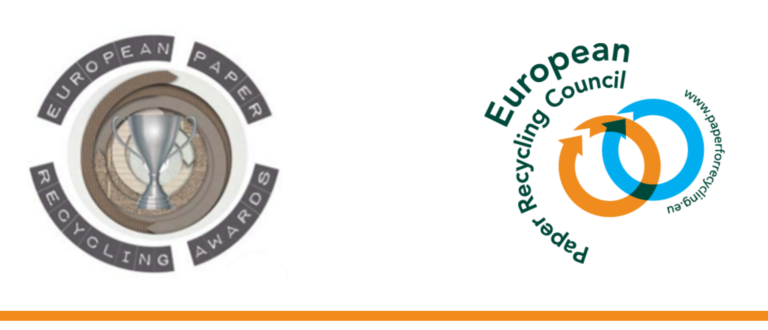 You can now apply for the 8th edition of the European Paper Recycling Awards!
Every two years, the European Paper Recycling Awards distinguish European projects, initiatives or campaigns that change the way we recycle paper in Europe and support us in our ambitious paper recycling rate goals.
The competition is open to all entities based in Europe including schools, universities, NGOs, national and regional authorities, companies and associations. 
There are two award categories: 
1)    Information and Education
2)    Innovative Technologies and R&D.
Eligible projects, initiatives or campaigns will be evaluated based on the following criteria: 
o    Relevance and Originality, 
o    Achievements,
o    Possibility to reproduce the project, 
o    Cost effectiveness. 
Applications are accepted by 7 January 2022. The awards ceremony will take place in February 2022 in Brussels, kindly hosted by Ms Anna-Michelle Asimakopoulou, Member of the European Parliament (EPP, GR).
Instructions (in German) for the Blue Angel for Printed Products (DE-UZ 195) on the website
In mid-March 2020, the Federal Environment Agency published new award criteria for the Blue Angel eco-label for white recycled paper and cardboard. Angel products may no longer exceed a maximum whiteness of 100 % (including UV content) according to ISO 2470 and a maximum CIE whiteness of 135 according to DIN ISO 11475. Coloured papers are exempt from this. Before the new regulation, the whiteness level was 147.
Since January, there are also new criteria for the Blue Angel for printed products (DE-UZ 195). As in the previous version, the evaluation of recyclability is carried out according to the specifications of the EPRC with the evaluation schemes (scorecards) for deinkability or the removability of adhesive applications, whereby now the printing inks used must achieve at least 51 points on the "Deinkability Scorecard" and the adhesive applications used must achieve at least 71 points on the "Adhesive Removal Scorecard". Here, the criteria give an outlook on the future: "In this context, at least 50 % of the achievable maximum number of points should be reached for each individual criterion of INGEDE Method 11 (Deinkability)." With the next revision, it can be assumed that this "shall" provision will become a "must".
In the meantime, due to some technical issues in determining trace contaminations in printing inks, the Environmental Label Jury decided in December to extend the old Basic Award Criteria of DE-UZ 195 (edition 2015) until 31. December 2022. "The new Basic Award Criteria of DE-UZ 195 (edition 2021) remain valid and the application process of the already submitted applications continues unchanged", the RAL writes.
Previously, a webinar presented the criteria for Blue Angel certification for printed products (DE-UZ 195), including the application process. This webinar can be found (in German) on the Blue Angel website here.
INGEDE Partner Leonhard KURZ publishes "Case Study" with INGEDE and essity
KURZ published a "Case Study Featuring INGEDE e.V. and Hygiene Paper Manufacturer Essity" presenting a joint project: KURZ provided the metallised paper and board (approx. 25 t) for the large-scale trial at essity's paper mill. It was collected from a customer of KURZ. Most of the samples were printed with offset inks. Metallisation was done with both hot stamping and cold foil transfer.
"The printing waste we used to produce paper towels from paper for recycling, which was provided by KURZ, could be processed without any problems and without any changes to the process. There were neither increased dirt specks or losses nor any impairment of the degree of whiteness. The whole process was completely unspectacular." (Anne-Katrin Klar, Essity).


KURZ presents the cooperation with INGEDE also on Linked in.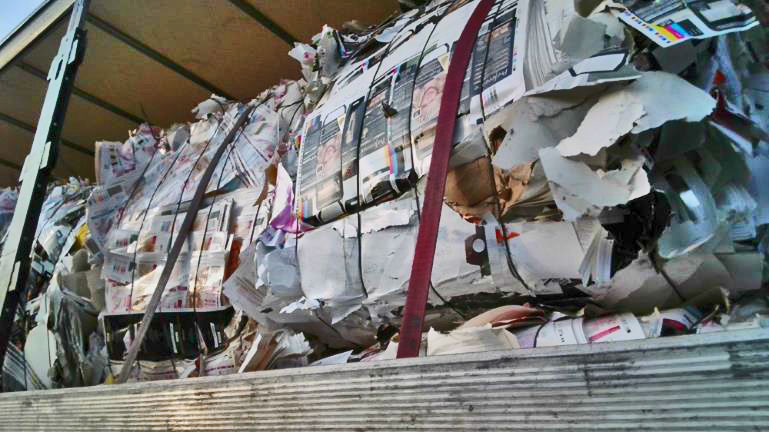 What does INGEDE partner Leonhard KURZ do?
At Fakuma, the industry meeting place for industrial plastics processing, our member company LEONHARD KURZ, together with Deckerform, is demonstrating that products made from recycled PET can keep up with virgin plastics not only functionally but also aesthetically. LEONHARD KURZ, the specialist supplier for thin-film technology, takes back PET transfer carrier film remnants from the graphics industry in an active take-back process and processes them into new "Recopound" plastic granulates.
Source: www.chemiecluster-bayern.de/fis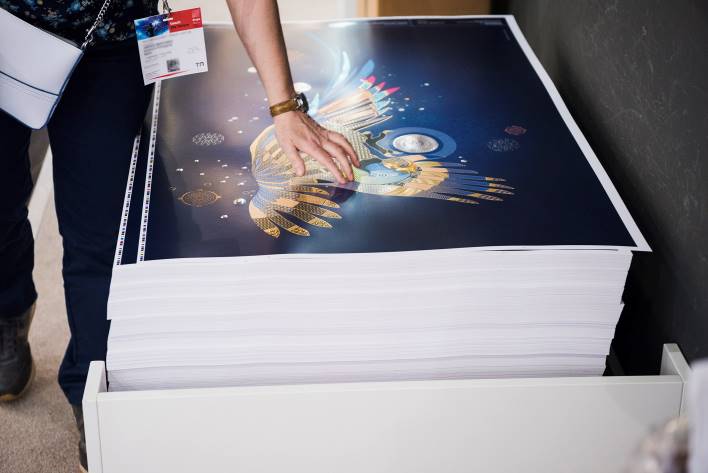 Sappi is new INGEDE Partner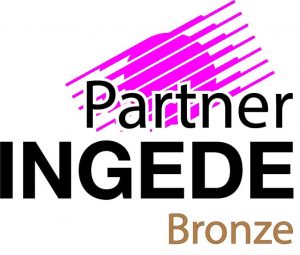 Sappi is a leading global provider of sustainable woodfibre products and solutions, in the fields of Dissolving pulp, Printing papers, Packaging and speciality papers, Casting and release papers, Biomaterials and Bio-energy.
Sappi Europe is a division of Sappi Limited (JSE), headquartered in Johannesburg, South Africa, with 12,500 employees and 19 production facilities on three continents in nine countries, 37 sales offices globally, and customers in over 150 countries around the world.
Sappi does not use recycled fiber as source but is an important supplier of "fresh fibre" for the recyclers.
Sappi's answer to the circular economy and the resulting focus on renewable and recyclable products is, among many other products in the paper and board sector, the Functional Paper Packaging product group with its barrier papers that can be recycled in the paper recycling stream.
Learn more about Sappi at www.sappi.com.
These relatively new barrier papers currently still pose a challenge to the recycling streams that have existed for a long time. However, these will need to be adapted in the near future to realise the full potential of renewable materials in the circular economy.
Sappi, as well as some INGEDE members, is also actively involved into 4Evergreen's work streams, as the "Recycling evaluation protocol" (WS1), "Fibre based packaging design guidelines" (WS2), and "Collection and Sorting" (WS3).
INGEDE is pleased to be able to work more closely with SAPPI on paper recycling!

A closer look at Sappi Europe
(based on Sappi's website)
Headquartered in Brussels (Belgium), Sappi Europe is a leading European producer of coated graphic paper as well as packaging and speciality papers with ten mills, 15 sales offices and 5,600 employees.
The graphic products are used for high-quality consumer magazines, catalogues, corporate reports, brochures, books, direct mail, calendars, and marketing material.
The packaging and speciality papers meet the requirements of packaging converters, brand owners, designers and print finishers for flexible packaging, label papers, rigid packaging, containerboard, release liner, and technical papers.
As an example, the Alfeld Mill in Germany has a rich history dating back over 300 years (its origins date back to 1706, part of the Sappi Group since 1992) and is a Sappi Centre of Excellence for speciality coated and uncoated papers and boards. (Photo: www.sappi.com)

essity dries CO2-free with green hydrogen replacing natural gas
Essity is starting a pilot project in Mainz-Kostheim to run a paper machine CO2-free with green hydrogen. For this purpose, natural gas will be successively replaced by green hydrogen during ongoing production. With this project, which is the first of its kind in the paper industry, Essity wants to show that even energy-intensive production can be CO2-free. The Swedish company is investing a total of four million euros.
Essity is once again becoming more sustainable: the company is using green hydrogen in the production of hygiene papers (tissue). The four-million-euro pilot project will test the extent to which green hydrogen can replace the natural gas used in the drying process. For this purpose, a paper machine will be converted by autumn 2022 so that the burners of the drying unit can be operated with up to 100 percent hydrogen. A cooperation partner in this project is Mainzer Stadtwerke AG, which is building and operating a mobile hydrogen mixing plant on the Essity site. The state of Hesse is funding the project with money from the European Regional Development Fund (ERDF).
Thorsten Becherer, Essity plant manager says: "We will be the first in the world to use green hydrogen in hygiene paper production. This will prove that we can also achieve the high quality of our products with hydrogen and thus sustainably. We will succeed in operating a tissue paper machine not only CO2-neutral but CO2-free with the help of green hydrogen".
More/Picture: www.essity.de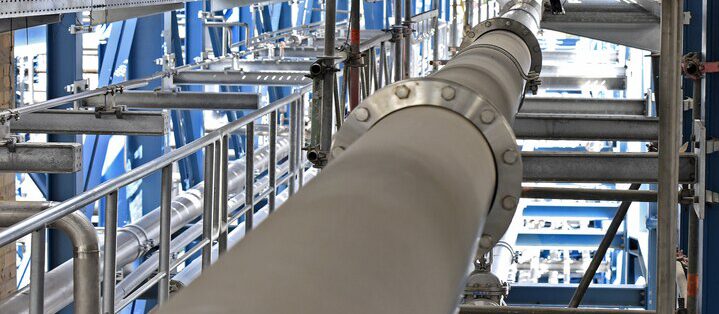 The State of Hesse is supporting the hygiene paper manufacturer Essity with 1.47 million euros to reduce CO2 emissions at its Mainz-Kostheim site. State Secretary for Economic Affairs Jens Deutschendorf handed over the corresponding funding notice to plant manager Thorsten Becherer on Thursday.
The money will be used to convert a production plant. Up to now, the paper webs have been dried with natural gas burners at the end of the production process, which is energy-intensive. The pilot plant is to be operated with climate-friendly hydrogen instead. The company plans to reduce its greenhouse gas emissions by 35 per cent by 2030.
State Secretary Deutschendorf praised the company's efforts: "Hydrogen can make a significant contribution to the energy transition if it is produced from renewable sources. Since capacities are limited for the foreseeable future, we must use it primarily where there are no other technical solutions. This applies to many industrial processes. Essity is rising to this challenge – this is an investment in the competitiveness of Germany as a business location, which we are happy to support."
Essity plant manager Thorsten Becherer adds: "Essity will prove that even energy-intensive production can be CO2-free. We will be the first paper manufacturer in the world to use green hydrogen on a paper machine during operation. Essity is thus making an important contribution to the sustainable transformation of industrial processes."
Source: Hessian Ministry for Economic Affairs, Energy, Transport, and Housing (28 October 2021)

Dr. Georg Holzhey, a "father" of INGEDE, deceased
On 27 February 1989, on the initiative of Dr Georg Holzhey, the managing director of the then Haindl Papier GmbH, the first meeting was held to establish a "Deinking Technology Interest Group", which was attended by numerous representatives of paper mills using paper for recycling. The reason was the fear that flexo printing could replace conventional newspaper printing and thus make the deinking of newspapers and magazines more difficult or even impossible in the long term.
The deinking industry owes a lot to Dr Georg Holzhey. Thanks to his initiative, INGEDE was founded to represent the interests of the industry and to deal with the challenges of recycling waste paper, especially the removal of printing inks. Today, this industry association has a firm place in the value chain and all member companies benefit from its activities.
In 2000, together with two colleagues, he was a candidate for the German Future Prize with the development of a new paper machine technology for coated magazine paper (LWC paper), the further development of fibre technology for the use of recovered paper in the production of this high-quality paper, and a new LWC grade containing recovered paper for particularly energy-saving printed products.
From 1970 to 2001, Holzhey played a key role in the development of the family-owned Haindl company into an international paper group as managing director, before he was first appointed to UPM's executive board after the sale to UPM in 2001, and then moved to the company's supervisory board in 2003, where he remained until 2010. He died in September 2021 at the age of 82.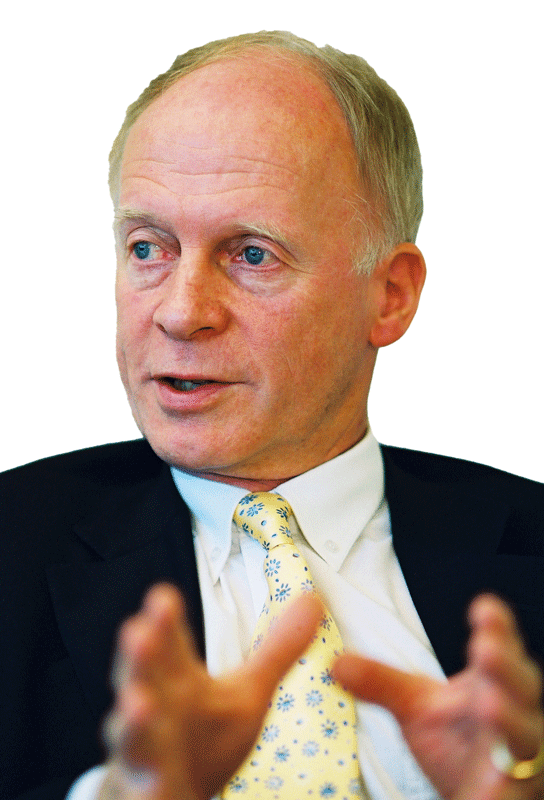 Picture: "Deutscher Zukunftspreis", Ansgar Pudenz


ZELLCHEMING Expo 2022: New perspectives
for the paper and cellulose fibre-based industry
ZELLCHEMING Expo 2022 is scheduled to take place from 29 June to 1 July 2022 as a presence event at the RheinMain CongressCenter (RMCC) in Wiesbaden.
More: ZELLCHEMING Expo 2022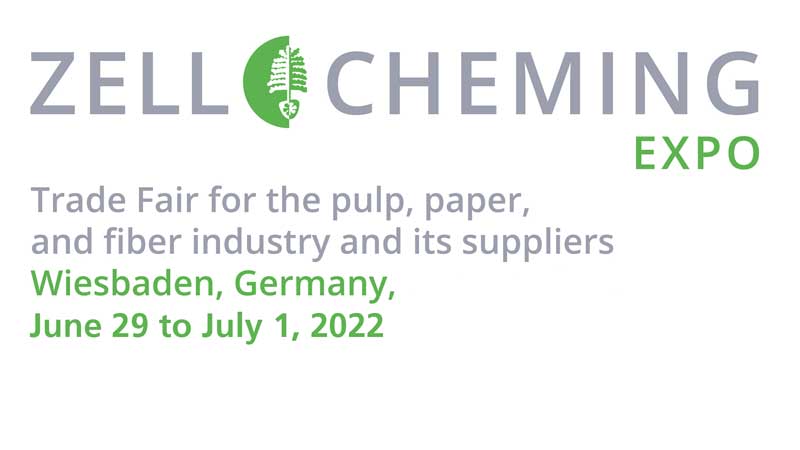 On three days of the trade fair, visitors to the ZELLCHEMING Expo will be able to follow practice-relevant lectures and obtain targeted information and further training on individual topics and application areas. The lectures presented at the event address current approaches of the paper and cellulose fibre-based industry on the way to a climate-friendly bio-economy and give initiatives and lighthouse projects further impetus beyond the event. Exhibitors are involved via best-practice applications and the latest technologies for process and product innovation. The detailed programme will be presented in the coming weeks.