Angels and flowers to create trust
Why ecolabels? An ecolabel shall signal to the customer that he can trust the product. It is meant to bridge the gap between consumer and producer that only exists because they do not know each other. If you would, like you might know the farmer in the neighborhood, you might not need any label.
This way also the Blue Angel works as well as other labels for printed products: They are meant to create trust. This is why the German Environment Agency (UBA) makes a point of a regular revision of the criteria.Since January 1st, 2020, there are new rules for "Recycled Paper" (DE-UZ 14a) und "Finished Products from Recycled Paper for Office and School Purposes" (DE-UZ 14b). And the European Ecolabel for printed products is currently under a general revision.
The Blue Angel for Printed Products (DE-UZ 195)

When comparing ecological systems, paper products from paper for recycling score better than paper products from mainly primary fibres in terms of resource consumption, waste water load, water and energy consumption.
The award criteria, the aplication documents, and the online application can be found on the Blue Angel website (in German only).
Here you also find a  finden Sie auch eine list of all printed products currently awarded the Blue Angel (German only).
In order to receive the Blue Angel, printed products have to be deinkable according to the Specifications of the European Paper Recycling Counci (EPRC), for details see the Deinkability Scorecard; adhesive applications have to be removable (Removability Scorecard). Here already a couple of adhesives under certain conditions have already been rated "removable". In the course of the revision of the Blue Angel this year, it is planned, to exempt adhesives that can be removed well according to current experience and to the Scorecard, from a test according to INGEDE Method 12.
The deinkability and removability are tested according to the respective INGEDE Methods. If you have any questions related to the test please contact us!
The Blue Angel for Recycled Paper (DE-UZ 14a)

Ziel des Umweltzeichens für Umweltfreundliches Recyclingpapier: "Die Anforderungen dieser Vergabe­kriterien zielen insbesondere darauf ab, die Verwendung unterer und mittlerer Altpapiersorten zu fördern und technisch nicht notwendige Stoffe bei der Produktion zu vermeiden."
Untere und mittlere Sorten bedeutet, dass hier Altpapier aus der haushalts­nahen Sammlung als Rohstoff eingesetzt werden soll, aus dem die Druckfarbe entfernt wird – in einer Deinkinganlage. Hochweiße Recycling­papiere, die überwiegend aus unbedruckten Papierresten aus der Papierverarbeitung hergetellt werden, erfüllen diese Kriterien nicht.
In Zukunft soll dieser Blaue Engel für alle grafischen Papiere und Kartone gelten (für grafische Papiere bis 75 g/m² gilt das DE-UZ 72). Der maximale Weißegrad wurde auf 100 % (inklusive UV-Anteil) festgelegt, ein sehr helles Cremeweiß, das jedoch kein Schnee­weiß ist: Man soll gerade noch sehen, dass es sich um ein Recyclingpapier handelt. Optische Aufheller sind bis auf bestimmte schwere Papiere ausgeschlossen. Damit soll dem Trend zu noch höheren Weißen, die nur noch durch Zusatz von optischen Aufhellern oder Zumischung von unbedruckten Fabrikationsabfällen erreichbar sind, entgegengesteuert werden.
Neben Bisphenol A soll zum Zwecke des Monitoring auch Bisphenol S gemesen werden. Hintergrund ist der zunehmende Einsatz von Bisphenol S in Thermopapieren anstelle des seit 1. Januar 2020 verbotenen Bisphenol A. Nicht nur das Umweltbundesamt sieht auch den Einsatz von Bisphenol S kritisch. In der Schweiz ist Bisphenol S ab 1. Juni 2020 verboten.
Die Neufassung des Blauen Engel für Recyclingpapier soll bis 31. Dezember 2024 gelten und wird demnächst auf der Webseite des Blauen Engel veröffentlicht.
Der Blaue Engel für Fertigerzeugnisse aus Recyclingpapier
Knapp hundert

Anwender haben derzeit den Blauen Engel DE-UZ 14b mit mehr als 200 Produkten lizensiert. Der Titel, bisher "Umweltfreundliche Fertigerzeugnisse aus Recyclingpapier für Büro und Schule", wird mit der Neufassung erweitert.
Bisher steht in den Vergabekriterien unter 3.8, das Fertigerzeugnis "soll deinkbar und gegebenenfalls vorhandene Klebstoffapplikationen sollen abtrennbar sein" – ab sofort ist dies keine Empfehlung mehr, sondern ein Muss. Dabei wurden Ergebnisse eines UBA-Forschungsprojekts aufgenommen und Schmelzklebstoffe (Hotmelts) unter bestimmten Voraus­setzungen von der Verpflichtung zum Test befreit. Die Ergebnisse des Forschungsprojekts, an dem auch die INGEDE beteiligt war, sollen demnächst veröffentlicht werden.
Die Neufassung des Blauen Engel für Fertigerzeugnisse aus Recyclingpapier soll bis 31. Dezember 2024 gelten und wird demnächst auf der Webseite des Blauen Engel veröffentlicht.
Das Europäische Umweltzeichen für Druckprodukte
Umweltfreundliche Druckprodukte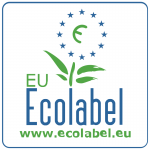 — was zeichnet sie aus? Das Europäische Umweltzeichen (EU Ecolabel) definiert seine eigenen Kriterien hierfür (EU Commission decision of Aug 16, 2012).
Die Antragsunterlagen finden Sie hier:
www.eu-ecolabel.de/produktgruppen-kriterien.html
Das Österreichische Umweltzeichen für Druckprodukte
Das Österreichische Umweltzeichen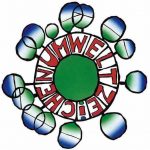 zählt zu den Pionieren auf dem Sektor Druckprodukte – hier wurde erstmals konsequent die Deinkbarkeit bei der Zertifizierung verlangt. Da das Umweltzeichen Voraussetzung bei der öffentlichen Beschaffung (Vergabe von Druckaufträgen) ist, gehört es bei Druckereien in Österreich quasi zum guten Ton. DEshalb wurde insbesondere eine Vielzahl von Digitaldruckmaschinen zuerst für das Österreichische Umweltzeichen auf Deinkbarkeit getestet und zertifiziert.
"Druckereien, die das Österreichische Umweltzeichen tragen, verwenden nur umweltfreundliches Papier sowie Toner und Druckfarben, die sich beim Recycling nachweislich vom Altpapier ablösen lassen. Folien und Klebstoffe, die den Prozess stören, sind nicht erlaubt." (www.umweltzeichen.at)

Österreichisches Umweltzeichen für Druckerzeugnisse (UZ24), Kurzfassung


Österreichisches Umweltzeichen für Druckerzeugnisse (UZ24), Langfassung
UMKA is new member of INGEDE
INGEDE welcomes Umka Cardboard Mill as its most recent member. The mill in Serbia is producing recycled cardboard ("white-lined chipboard") as Umka Color (230–500 gsm), Umka Pak (230–450 gsm) and Umka Special (280–500 gsm) with a total production capacity of 130.000 mt/year.
Recycled cardboard has a wide range of applications in the food and beverage, confectionary, pharmaceutical, chemical, tobacco, and spare parts industry. The board is also used for lamination in the production of transport packaging.
Board is produced in sheets and reels, depending on the customer's request. The width of the cardboard machine is 320 cm.
For many years, beside Serbia and EX-YU countries, the mill is successfully selling its products to customers from 28 European countries. Among the most important export markets are countries like Russia, Poland, Czech Republic, Romania, Greece, Hungary, Italy, and Germany. Further plans for capacity increases will enable growth in the markets where the mill is already present, as well as opening of new ones.
80 years of success: The first cardboard manufacturing site in Umka was established in 1939, only to be replaced in 1967 with a first cardboard machine with capacity of 20.000t. Another landmark in history of Umka Cardboard Mill is 1978, when comprehensive machine reconstruction took place that enabled increase in capacity and production of coated board.
In the upcoming four years, Umka cardboard mill, plans to invest around 40 million euros in modernisation and improvement of the existing production technology, as well as in a system for biological water treatment. The aim of this investment cycle is to further develop production capacity, while preserving the eco system in its environment.
INGEDE Symposium on March 25, 2020 in Munich has been cancelled
The INGEDE Symposium has been cancelled already before the World Health Organization now declared the coronavirus (COVID-19) a pandemic. Travel restrictions for many of our members made it impossible to continue the planning.

INGEDE regrets that this year's symposium has to be cancelled. We will see you in Munich in 2021!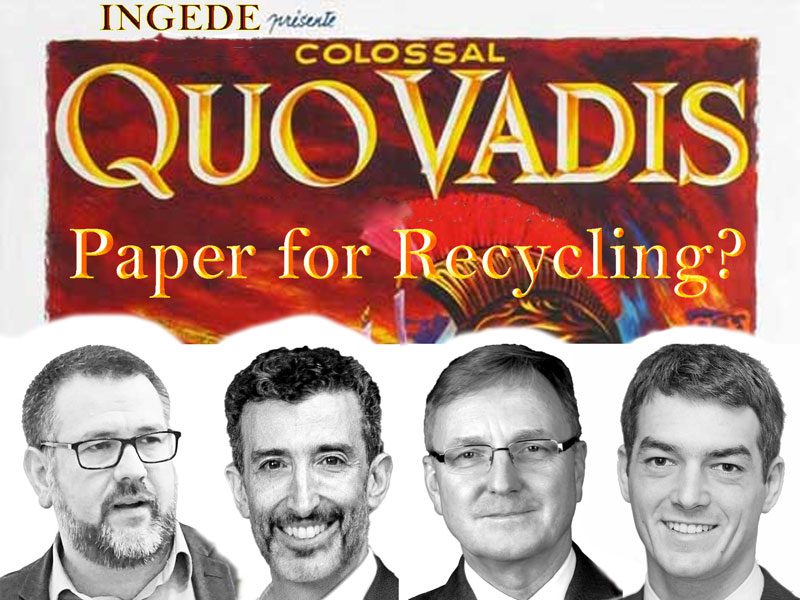 Quo Vadis, Altpapier? This question was to be discussed with (from left) Jean-François Robert (CITEO), Marc Ehrlich (Vipa), Josef Augusta (APR), Ulrich Leberle (CEPI)
We will pick up the question with some statements of the experts within this newsletter.

Der "Ökobon" ist nicht deinkbar
Im Dezember in den INGEDE News:
"Entsorgung über Altpapierrecycling" – damit wirbt die junge bayerische Firma Ökobon für ihren neuen Kassenzettel. (INGEDE News Dezember 2019)
Auch Hersteller Koehler (Produktname: "Blue4est") richtet seine Werbung insbesondere an Biosupermärkte, die umweltfreundlich sein wollen (Beispiel Instagram). Aus diesem Umfeld kamen vermehrt Anfragen zur Rezyklierbarkeit.
Der Verzicht auf Bisphenol A ist ein Gewinn für die Umwelt. Beim Auflösen der Kassen­zettel im Labor erhält man allerdings eine schwarze Masse, die sich per Flotation nicht entfärben lässt (Bild rechts).
Auf Rückfrage teilt der Hersteller mit, der blaue Farbeindruck stamme nicht von einer Einfärbung, sondern entstehe durch Lichtbrechung der schwarzen Schicht an den Bläschen.
Die schwarze Schicht bestehe aus Ruß, der nur leicht gebunden ist, nicht fest wie bei einer Druckfarbe. Das erklärt die Probleme beim Entfärben im Papierrecycling. Deshalb gilt weiterhin für alle Kassenzettel:
Kassenbons nicht ins Altpapier
Kassenbons aus Thermopapier sollten weiterhin grundsätzlich wie auch vom Umweltbundesamt empfohlen mit dem Restmüll entsorgt werden, da nicht ausgeschlos­sen werden kann, dass noch Restbestände mit Bisphenol A im Umlauf sind. Auch die alternativen Farbentwickler sind nach einer aktuellen Untersuchung des Umweltbundes­amtes alle bis auf einen möglicherweise hormonell schädlich.
Farbentwicklerfreie Thermopapiere (Ökobon, Blu4est) sind im Verpackungsrecycling unproblematisch, aber aufgrund der enthaltenen schwer entfernbaren Pigmente für ein Deinking zu weißem Papier derzeit nicht geeignet. Nur wo entsprechende getrennte Sammelsysteme vorhanden sind, können sie zum Verpackungsabfall gegeben werden; im Zweifelsfall sind jedoch, da eine Sortierung nicht praktikabel ist, auch diese Thermopapiere mit dem Restmüll zu entsorgen.
Die Stellungnahme des Umweltbundesamtes ist hier zu finden:
www.umweltbundesamt.de/presse/pressemitteilungen/viele-bisphenol-a-alternativen-moeglicherweise hormonell schädlich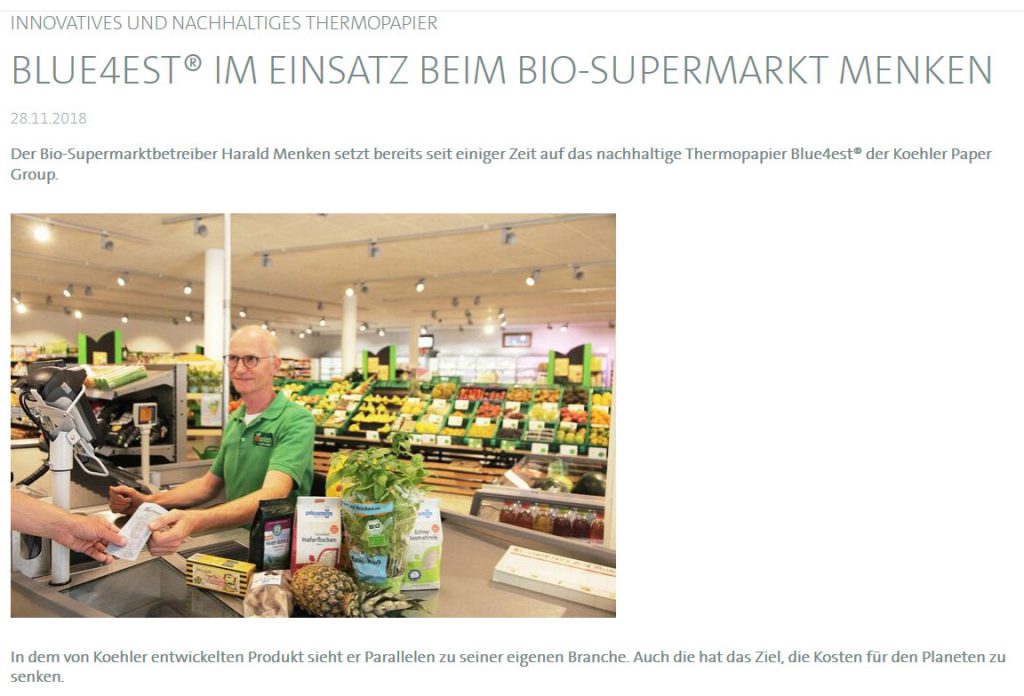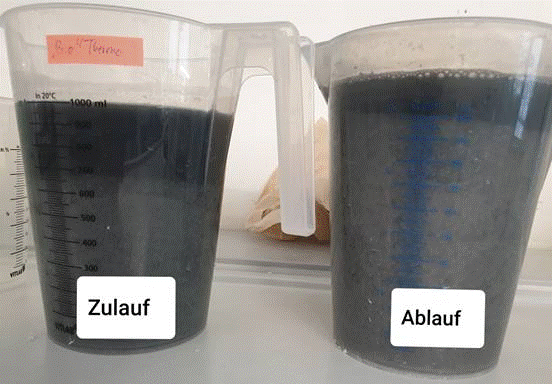 Kassenzettel-Proben nach dem Auflösen
und einem Deinkingversuch im Labor