INGEDE Celebrates the 30th Anniversary: Successful for Deinking Issues
The annual events of INGEDE coincided with the association's 30th birthday. The meetings in Munich saw an increased number of attendees, over 50 percent more than two years ago.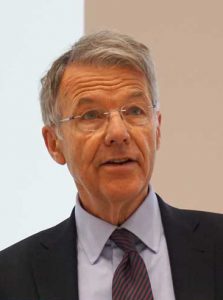 "INGEDE contributes to recycle paper to the highest level of purity and brightness while the world is still consuming natural resources as if they were unlimited" was one of the key messages in Bernhard Steinbeis' welcome address. Steinbeis was INGEDE's founding chairman in 1989, the first in a row of five, followed by Erwin Krauthauf, Rolf Maisch, Ulrich Höke, and today Thomas Krauthauf.
At the symposium in Munich, Thomas Krauthauf reported about the successes of INGEDE in the past – the first issue and the reason to join forces within INGEDE was to prevent the spread of water based flexographic newspaper printing. INGEDE continued providing orientation for printers, converters, and their suppliers to improve recyclability; then also developing standards and methods to improve the quality of paper for recycling. INGEDE's methods for incoming inspection of paper for recycling are internationally accepted standards today as well as the methods to evaluate the recyclability of printed products.
Ongoing tasks and challenges are new printing technologies and more complex paper products as well as the declining availability of white fibres in paper for recycling, just to name a few. In his welcome address, Steinbeis did not only bring some allusions to politics, he also briefly touched the financial aspect of INGEDE membership: "The fees charged per ton of paper for recycling did not really hurt. INGEDE reduced the fee from 15 to 7 cents per ton of paper for recycling while the world around is greedy without end."
Deinkable Ink for LE- and LED-UV Printing Introduced at the INGEDE Symposium
Current cross-linked inks are difficult to remove in the deinking process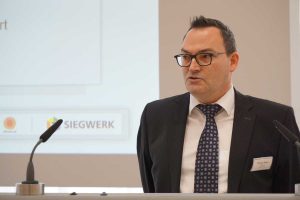 No more coloured dots in the recycled paper: Just because the curing radiation is being generated by energy-saving LED, UV printing inks are less environmentally friendly than the marketing suggests. They leave coloured dots in the newly made paper and thus can severely damage the recycling process – because they can hardly be deinked. This is about to change: At the INGEDE Symposium in Munich, Thomas Glaser (Siegwerk) and Peter Hengesbach (Stora Enso) presented extensive investigations into a new printing ink. This is equally suitable for LED- and low energy UV printing (H-UV, LE-UV, e. a.) as well as for conventional UV printing – and is excellently deinkable.
Deinkable ink is on the market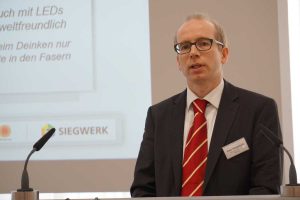 Siegwerk's cooperation with the research department of INGEDE member Stora Enso began as early as 2017. Meanwhile, the deinkable LED UV colour is on the market. But the development continues: "We see even more potential," says Glaser, Head of Technology Sheetfed at Siegwerk. "We are working on other deinkable UV and LED UV products."
Other UV-curing inks rarely meet the criteria for good recyclability. Almost all previously studied colours leave significantly too many ink particles in the recycled paper. Paper printed with UV-curing inks can thus impair the deinkability of entire recovered paper batches. Therefore, such UV prints must be collected and disposed of separately at the point of contact where they occur (for example, printers'  waste). However, what once left the print shop can practically no longer be recognized and separated during collection and recycling.
Vegetable oil is not always good: Inks have to be tested carefully
Different inks behave differently in the deinking process. Together with INGEDE, colour manufacturers are therefore looking for ways to replace poorly deinkable inks with more recycling-friendly solutions. Cross-linked particles due to their size, flexibility or surface properties can neither be separated mechanically (screens) nor by flotation. Also some vegetable-oil based inks create problems, because they polymerise when drying and cling closely to the fibres – this again leads to dirt specks in the recycled paper.
Another cross-linked challenge is polyethylene liquid toner (HP Indigo), currently used for most of the photobooks. This is a thin plastic film rather than a conventional printing ink. During the recycling process, this film breaks into snippets, which cannot be removed sufficiently. These snippets have already led to significant damage in a paper mill, since then photobook printer waste must not be mixed with graphic paper for recycling and at best be used for corrugated board.
Axel Fischer