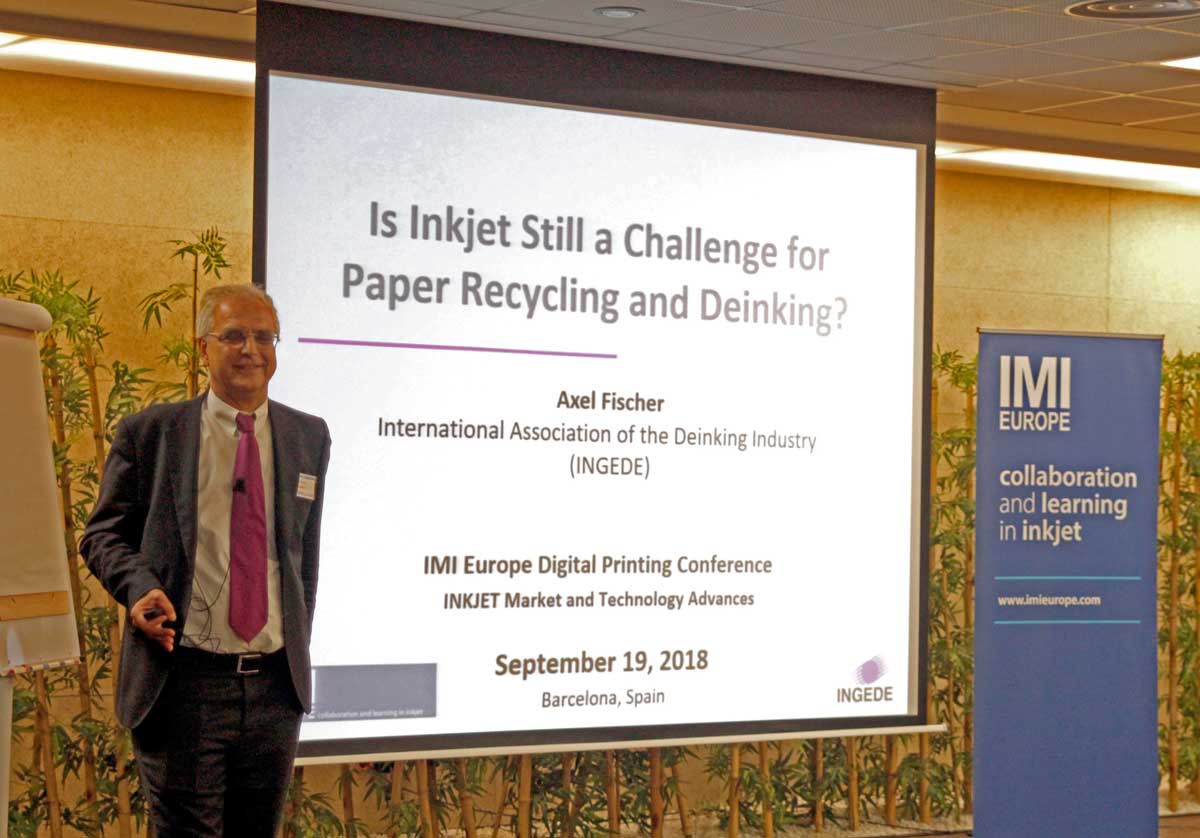 IMI Europe Digital Printing Conference
Barcelona, Spain
In his presentation at the IMI Conference, Axel Fischer of INGEDE asked Is Inkjet Still a Challenge for Paper Recycling and Deinking?
Printers want to go green. Some think, water is green, just because it is water? It isn't always.
Water soluble inks in printing are not necessarily environmentally friendly. Cheap dye-based inks dissolve during the recycling process, staining the fibre rather than leaving the mix in a process designed to remove 1) hydrophobic 2) ink particles.
Deinking has soap bubbles rise to the surface, pulling hydrophobic ink particles up and away. Here dyes and inks with hydrophilic small particles make a print behave like a red sock in a washing machine – staining all the fibres in the system, not just the one they are intended to colour.
Better systems are available: The presentation gave an idea how to do it. You can download the pdf here.
24.–25. April 2018
PTS-Fachtagung "Altpapier im Fokus"
Dresden
Altpapier als Rohstoff für die Papierindustrie
Altpapier-Stoffaufbereitung in der Papierfabrik
Mit einem Vortrag von Andreas Faul zum Thema "Bewertung der Deinkbarkeit – Modernisierte Methode und neue Ergebnisse" (pdf zum Download)
---
October 4–6, 2017
International Scientific Conference on Print and Media Technology for junior scientists and PhD students
Chemnitz, Germany
For INGEDE, Andreas Faul presented on the Recyclability of printed paper products, download the pdf here.

---
10–13 September 2017
44th International IARIGAI Conference
Advances in Printing and Media Technology – From Printing to Manufacturing
Fribourg, Switzerland
IARIGAI the premier annual conference covering all aspects of printing and media technology
Axel Fischer of INGEDE gave a presentation on New Printing Processes – Challenges for Paper Recycling
(Download pdf of presentation here)